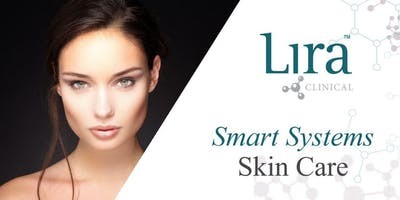 The Lira Clinical product lines are a game-changer for skin care that redefine aesthetics and deliver highly anticipated and impressive results. At Touch Companies our skincare professionals will provide the Lira Clinical Treatment best suited to tackle specific skin problems, such as inflammation or hyper pigmentation of the skin.
This line is excellent for clients that are looking to brighten skin, improve texture and health of skin, diminish fine lines, or battle acne. 
Lira Clinical utilizes probiotics, plant stem cells, peptides, healing minerals such as colloidal silver, colloidal gold, copper, zinc, and magnesium.  $105 & up
An enriched thermo-corrective treatment that provides instant radiance by hydrating, soothing, decongesting and brightening the skin while minimizing redness. $100
Treatment designed to clear skin congestion, detoxify, and revitalize fatigued, stressed and dull skin. A 5-step treatment, with a unique Oxygen Complex and Patented Anti-Microbial Peptides, purifies and deeply hydrates to restore the skin's natural radiance and glow. The skin becomes luminous, healthy and younger looking. $120
Turn back time with powerful antioxidant treatment incorporating a Vitamin C concentrate, algae biomatrix patches and a thermal organic mud mask. Reduces the appearance of lines and wrinkles, evens out the skin tone and illuminates the skin, restoring its youthful glow. For best results, this facial is typically recommended in a series. $125
This intensive anti-aging treatment hydrates, rejuvenates, smoothes and tones the skin's surface to subdue the visible signs of aging – without surgery. This treatment improves the overall complexion by minimizing the appearance of fine lines and wrinkles. It restores moisture, leaving the skin well hydrated and radiant. For best results, this facial is typically recommended in a series. For best results, this facial is typically recommended in a series. $125
G.M. Collins signature Anti-Aging Treatment. This innovative, clinically proven treatment combines five peptides with retinol to mask all signs of aging. After just one treatment, lines and wrinkles are improved and skin appears plumper. For best results, this facial is typically recommended in a series. $155
Phyto Stem Cell Treatment
This G. M. Collin facial is a Nobel Prize winning discovery in medicine. It has 7 International patents. This treatment incorporates the alliance of 3 innovative sciences- Plant Stem Cells, DNA repair and Cell Longevity to help delay the signs of aging. This treatment will repair and regenerate on a cellular level, reverse the visible signs of aging, rebuild cellular membranes and work on DNA damage, reducing wrinkles by 78% after one treatment. For best results, this facial is typically recommended in a series. $165
A four action treatment formulated to exfoliate, deeply hydrate, restore, lift and firm the skin for instant radiance and enhanced skin tone. Perfect before a special event, wedding or public appearance. $120
Collagen Sublime Eye Treatment
This new radiance boosting anti-aging eye contour treatment is an intense 4 step treatment specifically formulated to treat the fragile area around the the eyes. Alone or incorporated into a signature facial treatment, this rejuvenating treatment will minimize the signs of aging, visibly improve the appearance of dark circles, help decrease puffy under eye bags to reveal a more youthful hydrated look. $40
$90 per Treatment or $50 Express Peels
GM Collin's facial peels help to speed up cellular renewal and give you brighter, more radiant looking skin. They utilize the most active and effective ingredients available on the market today such as Glycolic Acid, Lactic Acid, Mandelic Acid, Resorcinol, Vitamin C & E, in combination with other antioxidants and brightening actives to provide exceptional results.
G.M. Collin's professional chemical peels are designed to*:
Promote exfoliation of the skin's surface layers
Favour cell renewal
Improve the texture of the skin
Reduce the signs of aging
Diminish hyperpigmentation
Treat acne concerns
Brighten complexion
Leave the skin feeling silky soft
Visible Results After Only One Treatment*
* Results may vary from person to person
Derm Renewal Peel
A professional deep exfoliating treatment offering the full benefits of AHAs without the sting. Glycolic and Lactic acids with Arginine promote skin renewal and moisturization. For fine lines, wrinkles and congested skin
Glycolic Acid Peel
An intensive peel for lines and wrinkles, photo-aging, dull skin, imperfections. This deep exfoliation works to even out the top layers of the skin.
Lactic Acid Peel
For dry, flaky skin, fine lines and wrinkles representing the first signs of aging. Skin appears renewed and more radiant.
Salicylic Acid Peel
For oily acne-prone skin and photo-aging. Designed to exfoliate, relieve blocked pores, and eliminate the visible imperfections on the skin.
Modified Jessner Peel
For acne-prone skin, blemishes, photo-damage, mature skin and pigmentation. This peel helps to eliminate the visible imperfections on the skin and evens out skin tone.
Eye Treatment                             $10
Lip Treatment                              $10
Rejuvenating Hand Treatment   $25