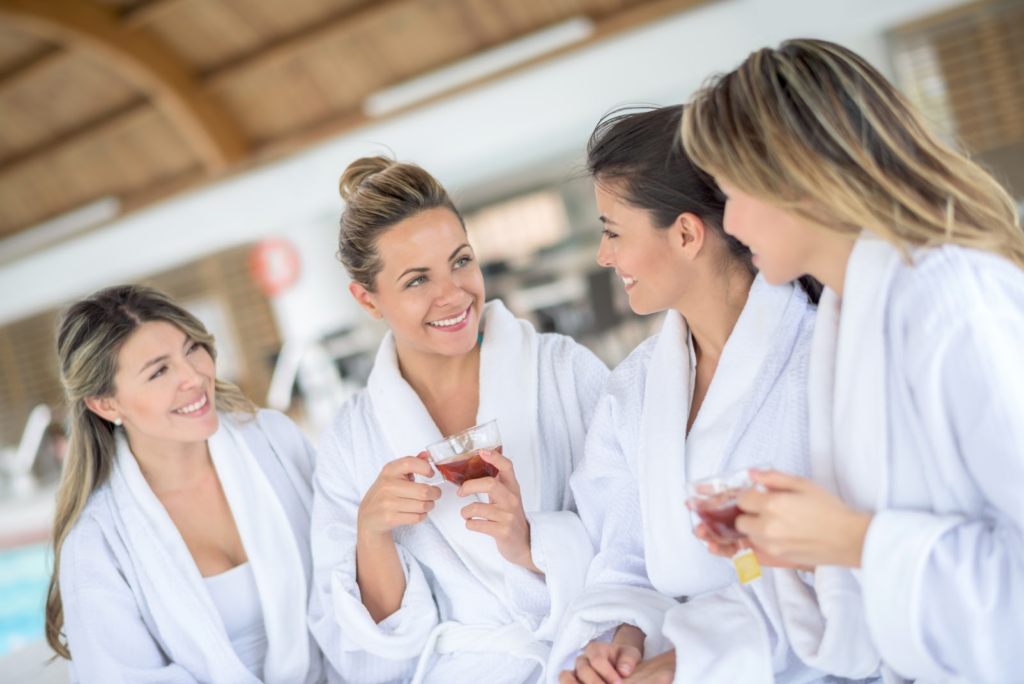 "You're Invited to a Sparty!"
Doesn't that sound great!? The best part – we handle everything – you tell us who is coming, we take care of the schedule. All you need to do is arrive, relax and celebrate!
Let us take the stress out of party planning!
A Spa Party is the perfect way to celebrate, whether for a girls' night out, family gatherings, birthday celebrations, bridal showers, corporate events and more.
WHEN: Let us know when you desire to hold your event, we can accommodate either during regular hours 6 days a week, or if you choose, we can open the spa exclusively for your party.
WHO: Spa Parties are great for anyone, any age, and any reason. A birthday party for your 8 year old daughter, the sweet sixteen every girl dreams of or a bridal shower that's sure to surprise.
WHAT: Select from our array of spa and salon treatments. You can choose a package below or customize your own – we will work with you to create the best spa experience!
SIP & SPA: In addition to your spa experience, we provide beverages and snacks customized to the time of the party. You are welcome to bring anything extra into the spa to celebrate such as a cake or champagne.
*Touch Companies can comfortably accommodate 8-10 people. Additional fees apply, if you and your friends would like to enjoy the privacy of our entire spa and the attention of our entire staff.
GIRLS NIGHT OUT
16+ years old
• Petite Facial Treatment
• 30 Minute Swedish Massage
• Mini Manicure
• Mini Pedicure
SPA BRIDAL SHOWER
The Bride, Bridesmaids and Mothers
• 30 Minute Swedish Massage
• Petite Facial Treatment
• Spa Manicure
• Spa Pedicure
GROOMING
The Groom, Groomsmen and Fathers
• 30 Minute Deep Tissue Massage
• 30 Minute Gentleman's Facial
• Manly Manicure
• Manly Pedicure
LADIES SPA DAY
18+ years old
• 60 Minute Swedish Massage
• Classic Facial
• Spa Manicure
• Spa Pedicure
"YOUR COMPANY NAME" SPARTY
Your clients, colleagues, employees
• 30 Minute Swedish Massage
• Mini Manicure
CUSTOMIZED SPARTY
You tell us who
You choose your treatments
Feel free to bring your own snacks and drinks, we will provide everything else! Alcoholic beverages are permitted at the spa but we insist that you drink responsibly and bring a designated driver. Adult supervision is required for all guests under 18 years of age. Guests must be at least 16 years old and have a parent present to receive services. An 20% gratuity is automatically charged for all Sparty services and a credit card number will be taken to reserve all Sparty services. To avoid charges please provide 72 hour notice for cancellation and changes.
Review our Etiquette & Policies.
Being located within the prestigious, Rosemont Health and Fitness Center, we can offer you and your party entry to the health facility that includes a pool, jacuzzi, steam room, sauna, 1/5 of mile indoor running track and workout classes for the day!
The perfect getaway for you and your guests to enjoy each other's company while being pampered!
All regular services offered at Touch Companies are available.
Please speak to an event coordinator for more information. Please call for details.